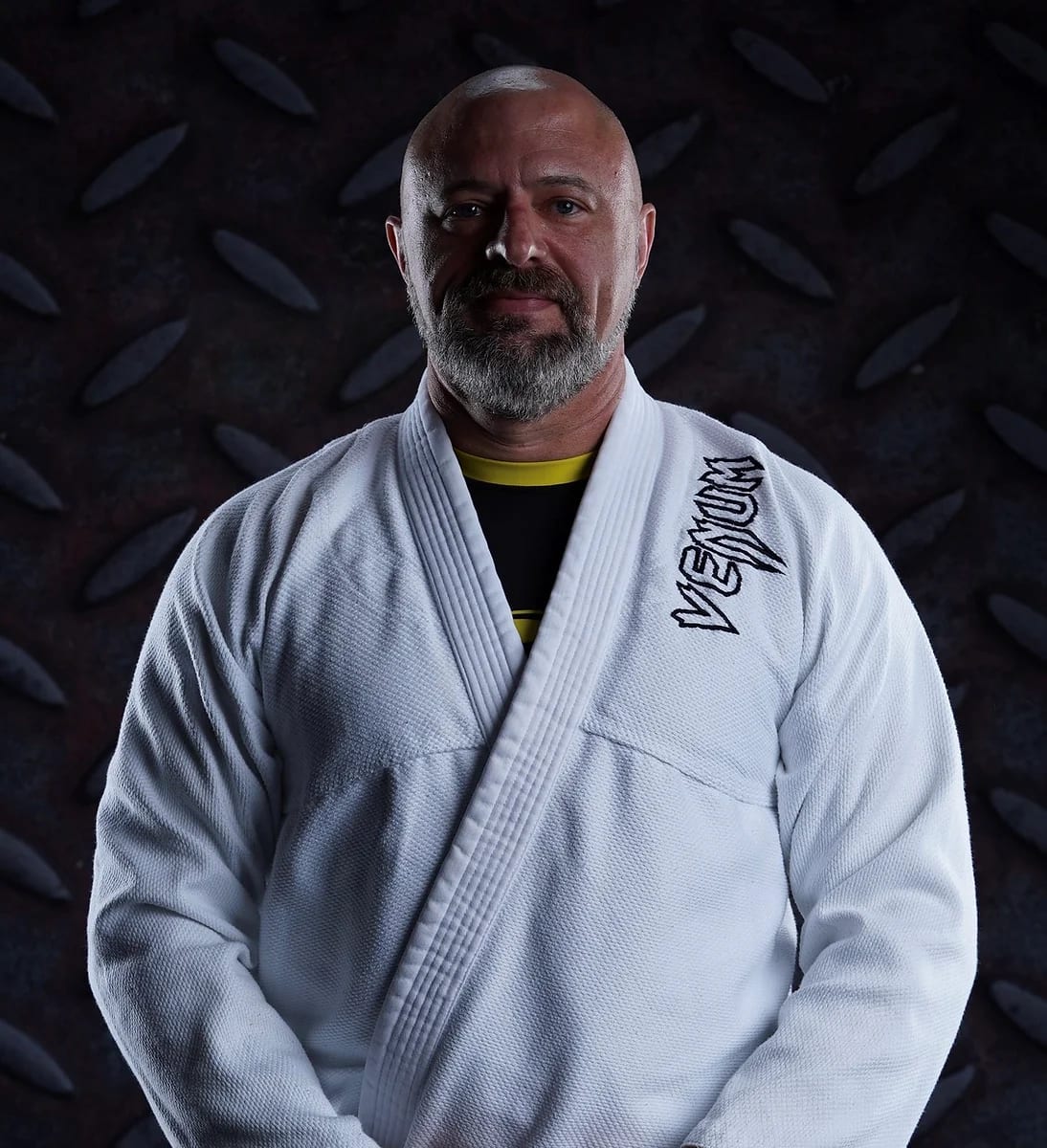 Frank Dees
Frank Dees has 28 years of Martial Arts training to include Shito-Ryu Karate, Judo, Aikido, Thai Boxing, wrestling MCMAP and is a Black Belt in Brazilian Jiu Jitsu under Gustavo Machado. He started studying BJJ after watching UFC 2 while in college. At the time there were no schools to train at so he bought the Rorion and Royce VHS, yes VHS instructional tapes, and would travel to any seminar he could find with Rickson and Royce Gracie.
Frank and another karate student would watch the tapes and then practice on an old rollout wrestling mat. Over the years he has had the opportunity to train with and learn from some of the best in the world to include: Rickson Gracie, Royce Gracie, Gustavo Machado, Roberto "Gordo" Correa, Mario Sperry, Roberto Traven, Charuto Verrisimo and more.
Frank was among the early students of BJJ in North Carolina. In 1996 he attended one of the first BJJ seminars in NC with Rickson Gracie. He started formal BJJ training in 2002 at Raleigh Institute of Martial Arts with Jason Culbteth (Cary BJJ) and Billy Dowey (Royce Gracie Raleigh) until his Marine Corps Reserve unit was deployed for Operation Iraqi Freedom. After moving to Miami he trained at Gracie Barra Miami with Daniel "Montahna" de Lima. In 2007 after moving home from Miami, he connected with a group training jiu jitsu in a garage in Rocky Mount under Eric Griffin, Guy and Rob Pendergrass (PAMA). They were one of the first and only teams training BJJ in Eastern NC. Many of these original training partners are now Black Belts and school owners. Eric Griffin (Gustavo Machado -Rocky Mount), Scott Bass (Gustavo Machado - Wilson), Mark Bryant (Carlson Gracie -Nash County), Brandon Holt, Marcus Brown, Cliff Bush, Tim Suber, David Sutton (Carlson Gracie -Melbourne, FL)
Since then, he as trained and competed as a member of the Gustavo Machado team in MMA, jiu jitsu and winning multiple competitions in NAGA, US Grappling FUJI and IBJJF
In 2021 and 2022 he won Bronze Medal at the Pan Ams and multiple other IBJJF Gold, Silver and Bronze medals. He ended both years ranked top 10 in the world in his IBJJF division. ?
In addition to his BJJ background, he is a USMC Veteran and served in Operation Iraqi Freedom, received his MBA from East Carolina University and MA in Leadership from SEBTS in Wake Forest. He and his wife Sharon have been married for 21 years and have two adopted children, Will Franklin (11) and Caroline (5).
Our Lineage